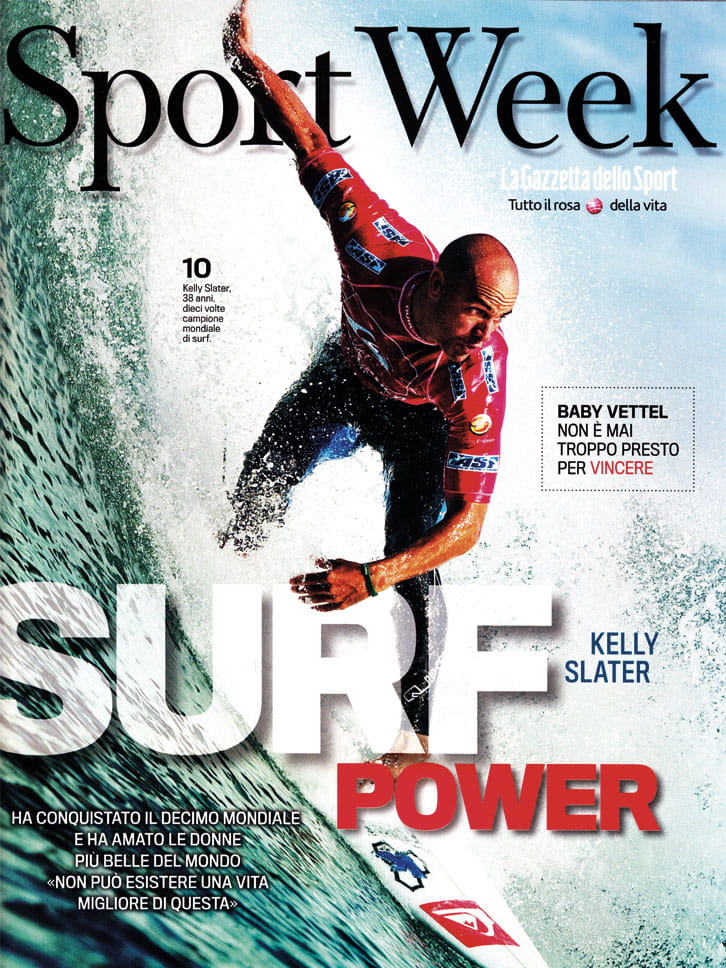 I am a columnist and contributor for the Italian sports magazine SportWeek.
A transatlantic phone call
When SportWeek called me, I knew it was the perfect opportunity to turn over a new leaf. The editors often ask me to write articles on sports I love and practice and over the years I realized that practicing the sport you're to report on is often the key to fully convey it in a simple and truthful way.
It's not just a matter of rules and history, it's having experienced the fatigue, the difficulties and the challenges that lead you to better portray the athletes and the competitions.
This feeling was very clear with Kelly Slater in 2010. SportWeek asked me to interview him, Kelly had just won his tenth title and I had already met him on a previous tour. The questions had all been approved by Quiksilver and the appointment had been set, ironically, while I was in Morocco surfing with friends and he was in the office in New York for media calls. I interviewed him from a landline phone, without the possibility of recording, the line was very disturbed, it was an old-fashioned interview, taking notes and then running to my room to write a draft. I had to rush to an internet cafe (Essaouira, twenty kilometers away, was the closest one) to send the article to my colleagues.
Slater was, as usual, forthcoming and precise, but what I remember the most were the surfing companions I met while in Sidi-Kaouki. I met them there and we became instant friends. They were getting ready to hit the waves when I was preparing for my interview. When they understood who I was on the phone with, they stayed and listened to our conversation, whispering to one another "he is on the phone with the King". At this time, there wasn't a journalist in front of them but a friend who shared with them a passion for surfing, who happened to talk to the greatest surfers of all time.
Real strength means putting the ego aside and let the actual protagonists take center stage.
When we wrapped up our interview, I went surfing. Sportweek published an eight-page spread, plus the cover. I saw Slater again the following year at Quiksilver Pro New York. We talked about that interview on the phone, we both remembered it well; even today I like to think that the success of that interview lies in the energy of the waves.